Ubicon: Smart Ubiquitous and Social Computing
Ubicon: Smart Ubiquitous and Social Computing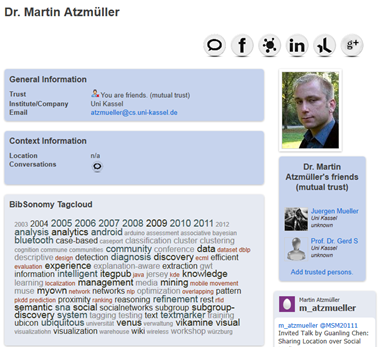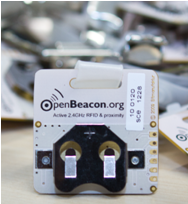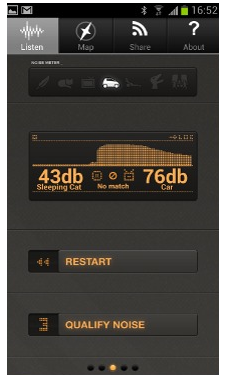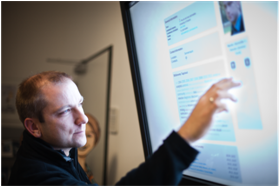 Ubicon - A Platform for Smart Ubiquitous and Social Computing
Software Releases/Code: code.ubicon.eu (License: GNU AGPL, partially LGPL)
When referring to the system, please cite the following publication:
Atzmueller et al. (2014) Ubicon and its Applications for Ubiquitous Social Computing. New Review of Hypermedia and Multimedia (20):53-77. URL
About Ubicon
The Ubicon software platform provides an extensible framework for building and hosting applications targeting both ubiquitous and social environments. It provides the technical basis for the Conferator system for enhancing social interaction at conferences, for the MyGroup system for supporting working groups, as well as for the WideNoise and AirProbe systems developed within the context of the EveryAware project for collecting environmental data.
Overall, Ubicon provides a powerful platform featuring several components and mechanisms in order to handle heterogeneous (Big) data in a scalable way. For details, we refer to Atzmueller et al. (2014) Ubicon and its Applications for Ubiquitous Social Computing. New Review of Hypermedia and Multimedia (20):53-77URL.
The Ubicon software platform is being developed by the Tilburg Center for Cognition and Communication at Tilburg University and the Chair of Knowledge and Data Engineering (KDE) at the University of Kassel. Ubicon has initially been developed by the Chair of Knowledge and Data Engineering (KDE) within the VENUS project at the Research Center for Information System Design (ITeG), University of Kassel. The VENUS project emphasized also legal requirements, trust, and ergonomics, in addition to the technical implementation. Therefore, we tried to design the system such that you can choose your own balance of making things public and keeping them private, in a privacy-aware fashion - also supported by the various implemented components.
If you have a question concerning Ubicon please let us know and send us an e-mail: webmaster@ubicon.eu
We will then get back to you shortly.
---
Code/Downloads
The source code of Ubicon is available on bitbucket, see code.ubicon.eu.
License: The main module of Ubicon is licensed under the AGPL, while several modules are also licensed under LGPL (see the URL above for details). For further information we also refer to the homepage of the Free Software Foundation.
---
Publications
Selected publications about Ubicon:
Martin Atzmueller, Martin Becker, Mark Kibanov, Christoph Scholz, Stephan Doerfel, Andreas Hotho, Bjoern-Elmar Macek, Folke Mitzlaff, Juergen Mueller, and Gerd Stumme. Ubicon and its Applications for Ubiquitous Social Computing. New Review of Hypermedia and Multimedia, (20)1:53--77, 2014. URL
Martin Atzmueller, Martin Becker, and Juergen Mueller. Collective Sensing Platforms. In Vittorio Loreto, Muki Haklay, Andreas Hotho, Vito D.P. Servedio, Gerd Stumme, Francesca Tria, and Jan Theunis (Eds.), Participatory Sensing, Opinions and Collective Awareness, Springer Verlag, Heidelberg, Germany, (In Press) 2016. URL
Martin Atzmueller, Martin Becker, Andrea Molino, Juergen Mueller, Jan Peters, and Alina Sirbu. Applications for Environmental Sensing in EveryAware. In Vittorio Loreto, Muki Haklay, Andreas Hotho, Vito D.P. Servedio, Gerd Stumme, Francesca Tria, and Jan Theunis (Eds.), Participatory Sensing, Opinions and Collective Awareness, Springer Verlag, Heidelberg, Germany, (In Press) 2016. URL
Martin Atzmueller. Data Mining on Social Interaction Networks. Journal of Data Mining and Digital Humanities, (1)June 2014. URL
Mark Kibanov, Martin Atzmueller, Jens Illig, Christoph Scholz, Alain Barrat, Ciro Cattuto, and Gerd Stumme. Is Web Content a Good Proxy for Real-Life Interaction? A Case Study Considering Online and Offline Interactions of Computer Scientists. Proc. ASONAM, IEEE Press, Boston, MA, USA, 2015. URL
Mark Kibanov, Martin Atzmueller, Christoph Scholz, and Gerd Stumme. Temporal Evolution of Contacts and Communities in Networks of Face-to-Face Human Interactions. Science China, (57)March 2014. URL
Christoph Scholz, Martin Atzmueller, Mark Kibanov, and Gerd Stumme. Predictability of Evolving Contacts and Triadic Closure in Human Face-to-Face Proximity Networks. Journal of Social Network Analysis and Mining, (4)217, 2014. URL